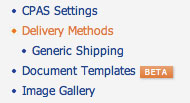 This feature set allows resellers using the StoreSite to display a virtual list of shipping carriers, rather than the actual shipping carriers you have configured at: Admin -> Delivery Methods
In order to activate Generic Shipping, navigate to Admin -> Delivery Methods -> Generic Shipping (It's a sub-page under Delivery Methods)
To utilize this feature, do two things:
1. Map all of your existing shipping carriers to a generic / virtual carrier from the screen shown above. You cannot enable the feature until all of your active carriers have been mapped to a generic shipping method.

In the screenshot above, generic shipping method called "1 Day" contains three actual carrier methods in it - FedEx Priority Overnight, UPS Next Day Air and USPS Priority Mail. The system must also know which shipping estimate to use, the highest or lowest value from the group. "Max" was chosen, which will use the higher shipping estimate when determining the customer shipping price.
Once you've finished mapping ALL of your carrier methods, you will be given the option to enable this feature globally at the bottom of the screen.
2. Once you have configured your carrier mappings - you will need to enable generic shipping for each ChannelOnline StoreSite where you wish to utilize this feature. To do this, navigate to: Admin -> StoreSite Admin -> (edit) Store_Name -> Settings Tab - Cart (Quote) -> Edit
Enable the option titled "Show Generic Shipping Names on the cart and in checkout", and save your changes.
Your customers will now receive only the generic shipping names when adding products to a cart and when checking out. Once your buyers have created and linked a PO to the customer's order, and a final shipping method has been selected, your customer's Sales Order will be updated to reflect the actual carrier.